Adin knew that he was the one who must fill the medallions in the belt.

Withick Mire is in need of more information! Withick Mire is lacking complete revision and synopsis. Mention the famous Deltoran artist Withick who gave name to the place, who created and printed the The Belt of Deltora book with Doran. Make it clear that anime-only information is non-canon.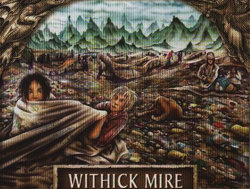 Withick Mire
General information
Alternative name(s)

Stink City
The Mire (formerly)
| | |
| --- | --- |
| Position | Resistance stronghold |
Physical information
| | |
| --- | --- |
| Location | North-west of Del |
Chronological information
Location on map
Withick Mire was once a green, swampy place but turned into a garbage dump used as a stronghold by the Resistance.[1] It was the home of famous artist Withick before he was captured and killed.[2]
History
Originally, Withick Mire was known as just 'the Mire', but the name was changed to 'Withick Mire' in honour of the artist Withick who had lived there.[2]
Secrets of Deltora
Doran the dragonlover stopped at Withick Mire after completing his book, Secrets of Deltora. He asked Withick to illustrate and print the book.[2]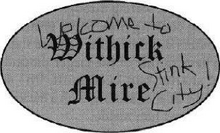 Resistance
Once it became a garbage dump, Withick Mire was used as a stronghold for the Resistance. It's position was ideal: close enough to the River Del to have ready water supply, large enough to provide cover and resources within the garbage, and smelly enough to keep Ols and Grey Guards away.[1]
Structure
Rooms
Trivia
References
See also
Community content is available under
CC-BY-SA
unless otherwise noted.