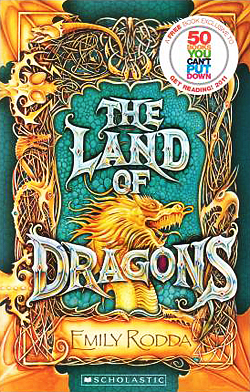 The Land of Dragons (book)
General information
Publication
The Land of Dragons written by Emily Rodda, was a 89-page fantasy book given out exclusively for free as part of the Get Reading! campaign of 2011. It bridges the gap between the Deltora Quest serie and The Three Doors trilogy. The book contained a collection of short stories, including a few Tenna Birdsong Tales and historical texts that also appeared in Tales of Deltora. It also included three new short stories about the island of Dorne, which is where the story of The Three Doors takes place.
Book description
"Legends of ancient Deltora, including the newly discovered tales of Dorne"
Contents
Foreword
The Land of Dragons
Fire and Water
The Island of Dorne
The Trader's Daughter
The Sorcerers of Dorne
The Tale of the Sorcerer
The Dragon's Egg
The Tale of the Pirran Pipe
Opal the Dreamer
The Shadow Army
Adin the Blacksmith
Community content is available under
CC-BY-SA
unless otherwise noted.