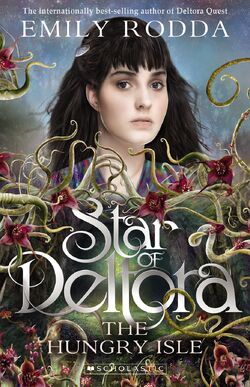 The Hungry Isle
General information
Illustrator

Marc McBride (cover)

Kate Rowe (any illustrations associated with the story, including maps and letters)
| | |
| --- | --- |
| Cover | Britta with her new odi hairclip, and below her the cavern at the centre of the Isle of Tier. All surrounded by the swamp orchids of the isle. |
Publication
| | |
| --- | --- |
| Publisher | Omnibus Books - imprint of Scholastic Australia |
| | |
| --- | --- |
| Published | September 1, 2016 |
Chronology
The Hungry Isle is a fantasy novel written by Emily Rodda. It is the fourth and final book in the Star of Deltora series. The book was published on September 1, 2016.
Description
The Star of Deltora has escaped Illica, but home and safety are still very far away. The shadows that haunt the ship are deepening. Strange currents, seen and unseen, are sweeping Britta and her friends into peril.
The magic Staff of Tier has sensed them, the Hungry Isle is on the prowl, and Britta's dreams of winning the Rosalyn Apprentice contest will soon be swamped in a tidal wave of terror.
Lives hang in the balance and shock follows shock as Britta's quest to escape her past reaches its tumultuous climax.
The book is 176 pages long.
Plot
Characters
Trivia
For almost four years since the release of The Hungry Isle, it had been the only installment in the Star of Deltora series to not be released as an ebook. Many fans had since been wondering about why this was. It came out on March 18th, 2021 in a blog post by Deltora Quest Wiki's administrator, Lukas Exemplar, that that he had contacted Emily Rodda's publicist, Sarah Hatton, on September 18th, 2020, and gotten reply from one of Scholastic's Publication Coordinators on November 27th, 2020, in which the coordinator revealed the lack of an ebook was simply an oversight and that they would not have noticed had he not contacted them. The coordinator revealed that the book would be converted into an ebook and uploaded to all major retailers within a few days, and so on December 20th, 2020. However, Lukas Exemplar had forgot about his email to Hatton after a month without a reply, and the ebook version, as well as the email reply, were not discovered until the admin Archer of Azzure mentioned to Lukas Exemplar on Discord that the ebook was now on Booktopia.[1]
References