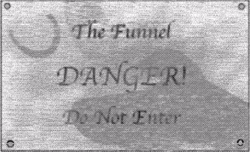 The Funnel
General information
Physical information
Chronological information
Location on map
The Funnel is a waterfall-like tunnel found in Lapis Lazuli territory that leads down to the centre of Deltora.
History
Secrets of Deltora
Doran mentions The Funnel in his book, Secrets of Deltora.
After Doran convinced the last Lapis Lazuli dragon, Fortuna, to sleep until the skies were free of the Ak-Baba, she chose a cave located behind the waterfall.[1]
Shadowgate
After capturing Zerry and the Belt of Deltora, Laughing Jack travelled to The Funnel to dispose of them both. However, Lief, Barda, Jasmine, and Steven had tracked him down and rescued Zerry and the belt before they were lost. This also allowed Fortuna to awaken from her slumber.[2]
Trivia
The funnel is a massive hole located beneath a rushing waterfall. It is unknown exactly how deep the funnel is, but it is believed to lead to the centre of Deltora itself.
The waterfall also has a concealed cave behind it, which is large enough to house an adult Lapis Lazuli dragon.[2]
References
Community content is available under
CC-BY-SA
unless otherwise noted.