The Authorised Ultimate Deltora Quiz Book
General information
Publication
The Authorised Ultimate Deltora Quiz Book (otherwise known as simply Ultimate Deltora Quiz Book) is a book written by Emily Rodda with illustrations by Marc McBride. This book contains more than a thousand questions testing the reader's knowledge of the Deltora universe.
Book description
You've been on many journeys with Lief, Barda and Jasmine. You've found the seven gems for the Belt of Deltora, you've helped save the people of Deltora with the Pirran Pipe-and you've done battle with the Four Sisters. But how much do you remember about these adventures? Now you can pit your wits against quizmaster Tamelas with more than 1000 questions in the Authorised Ultime Deltora Quiz Book.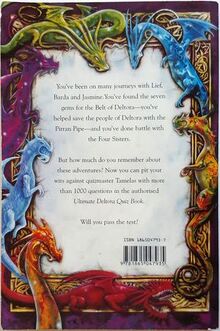 Community content is available under
CC-BY-SA
unless otherwise noted.