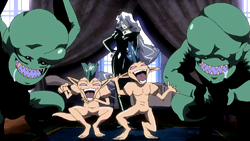 Thaegan's Trap
恐怖テーガンのわな
Information
| | |
| --- | --- |
| Romaji | Kyōfu tēgan no wana |
Episode guide
Thaegan's Trap is the twenty-third episode of Deltora Quest. episode of Deltora Quest.
Synopsis
Lief, Barda and Jasmine must escape Françoise's house while being hunted by Thaegan and her children.
Plot
Thaegan recruited four of her children — Hot and Tot; Fie and Fly — to pose as a girl named Francoise and lure Barda, Lief and Jasmine to a house she had enchanted. After several minor setbacks, her children succeed. Thaegan at first pretended to be an old woman and asked the companions about how they killed Thaegan before revealing herself. She pursued the companions through the house and onto the grounds when they escape through the chimney. She and her children corner them and she prepared to murder the three.
However, a single star appeared in the night sky, activating the power of the Lapis Lazuli. It dispelled Thaegan's magic, causing her to age. Enraged, Thaegan tried to fire a spell at the three, but in her weakened state she was unable to control it. The spell ended up hitting all four of her children, killing them. Lief used the opportunity to cut off Thaegan's finger, killing her for the second time.
Trivia
The Japanese title of this episode, 恐怖テーガンのわな or Kyōfu tēgan no wana, translates to "Fear Thaegan's Trap".