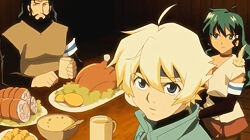 Test of Endurance
戦え! 戦えリーフ
Information
| | |
| --- | --- |
| Romaji | Tatakae! Tatakae Rīfu |
Episode guide
Test of Endurance is the seventeenth episode of Deltora Quest.
Synopsis
Lief and his friends get advice before they compete in the final round of the Rithmere Games.
Plot
Neridah tricks lief into believing she liked him and kisses him. On the fight lief hesitates to attack neridah, who plays acrobatic tricks with him and eventually pushes him off the ring. Before that, barda and doom fight, in which barda realised doom knew they were using fake names. Doom pushes barda off the ring. Jasmine won by a default when Joanna was defeated by glock and her husband attacks glock. Orwen, Joanna's husband was jasmine's opponent. Lief and barda were preparing to leave when jasmine came, saying she 'kinda won.' Lief and barda are surprised at this.
Characters
Villains
Trivia
The Japanese title translates to "Fight! Fight, Lief!".