For the area of the same name, see Shadowgate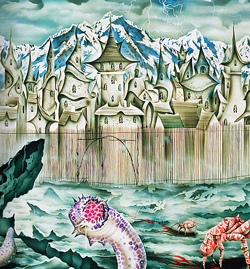 Shadowgate
General information
Physical information
Chronological information
Location on map
Shadowgate is a small town at the feet of the Barrier Mountains north of Deltora. The town lies near the passage that leads from Deltora to the Shadowlands.[1]
History
Secrets of Deltora
Doran visited Shadowgate on his journey around Deltora while writing the book Secrets of Deltora.[2]
Shadowgate
Many years before the events of the series, the Masked Ones made their rounds to Shadowgate. There, Bede, the troup's singer, fell in love with a girl name Kirsten. The next year, when the Masked Ones returned, he fell for her younger sister Mariette. Kirsten entered the service of the Shadow Lord to enact revenge on Bede and Mariette, making them both her servants and erecting a hidden castle just outside the town. The people of the town blamed Bede for the loss of two of their members and barred the Masked Ones from returning.[1]
Description
Shadowgate is located at the end of a mountain pathway in the shadow of the Barrier Mountains. The passage's walls are filled with small holes which are home to Bubblers. The town itself is surrounded by a wall of wooden sticks, since the wood splinters makes it difficult for the many boneless creatures to crawl unharmed across it. There are dangers everywhere in Shadowgate, and life there is harsh.[2]
Locations
Greasy's Place
Main article: Greasy's Place
Trivia
References
Community content is available under
CC-BY-SA
unless otherwise noted.