Adin knew that he was the one who must fill the medallions in the belt.

River Queen is in need of more information! River Queen is lacking add information about the different passengers that were on the River Queen.
Ava, whose symbol was the eye, was blind!

River Queen is in need of a few images! Perhaps you can help by uploading a picture of a higher res scan of the River Queen card, painted by Marc McBride for the Deltora Quest US Scholastic blook club.
This article is about the steamboat itself. For the thirty-second episode of the anime under the same name, see The River Queen.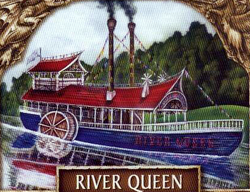 River Queen
General information
| | |
| --- | --- |
| Purpose | To transport passengers along the River Tor |
Physical information
Ownership
| | |
| --- | --- |
| Owner | Captain of the River Queen |
| | |
| --- | --- |
| Leader | Captain of the River Queen |
Chronological information
The River Queen is a steamboat that picks up and drops off passengers along the River Tor. The crew mainly consists of Polypans and humans.[1]
History
The Maze of the Beast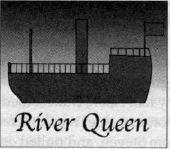 After Jasmine split from Lief, Barda, and Dain, both groups arrived on the River Queen at different times on their trip to the cost. On Lief, Barda, and Dain's first night, the River Queen was attacked by pirates. During the attack, Barda was knocked overboard, Dain was captured, and an Ol recognised the companions and attacked Jasmine before the captain could kill it. Afterwards, Lief and Jasmine were rowed to shore.[1]
Rules
Before passengers come aboard the boat, they must agree to the following rules:
They must have the ability to protect themselves, as the captain is not their bodyguard.
No harassing other passengers.[1]
References
See also
Community content is available under
CC-BY-SA
unless otherwise noted.