Adin knew that he was the one who must fill the medallions in the belt.

Prin's mother is in need of more information! Prin's mother is lacking anatomy and personality.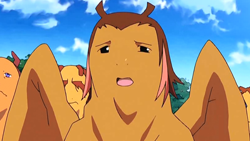 Prin's mother
Biographical information
Physical description
Personal information
Chronological and political information
Prin's unnamed mother is a Kin who was forced to leave Dread Mountain, alongside all other Kin. She is very protective of her daughter Prin.[1]
History
Prin's mother lived at Kinrest on Dread Mountain alongside the other Kin until they were forced to leave when the Dread Gnomes began hunting them with poisoned arrows. She fled to the Dreaming Spring alongside the remaining Kin. Every night she would use the water from the spring to dream of the mountain and visit it in spirit.
Sometime after her escape from Dread Mountain, she gave birth to Prin.[1]
Dread Mountain
Prin's mother was very protective of her daughter, scolding her for behaving recklessly and forbidding her from accompanying Lief and his companions to Dread Mountain. She later apologised for her daughter's absence upon the friends' departure, unaware that Prin intended to follow them.[1]
Anatomy
Personality
Relatives
Unknown
Prin's Mother
Prin
References
See also
Community content is available under
CC-BY-SA
unless otherwise noted.