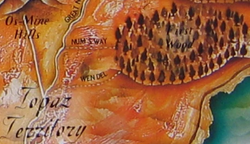 Num's Way
Physical information
Chronological information
The Num's way is a road that branches from the Great North Road in Topaz territory and leads into First Wood of the Forests of Silence.[1]
History
Secrets of Deltora
Doran mentions the Num's way as an alternative to the unsafe road of Wenn Del.[1]
References
See also
Community content is available under
CC-BY-SA
unless otherwise noted.