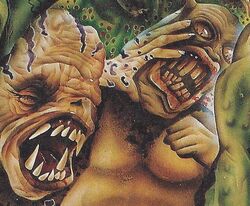 Lun
Biographical information
Physical description
Personal information
Relatives

Tamm (grandmother, deceased)
Thaegan (mother, deceased)
Lod (twin, deceased)
Hot (sibling, deceased)
Tot (sibling, deceased)
Pik (sibling, deceased)
Snik (sibling, deceased)
Fie (sister, deceased)
Fly (brother, deceased)
Jin (sister, deceased)
Jod (brother, deceased)
Zan (brother, deceased)
Zod (sibling, deceased)
Ichabod (brother, deceased)
Chronological and political information
Lun
was one of 
Thaegan's
 thirteen monstrous children.
[1]
History
Lun was born some time after Thaegan's return to Deltora. Its father, if there was one, is unknown. It and its twelve siblings roamed Deltora's northeast, terrorising the countryside.[1]
The Deltora Book of Monsters
Lun and its siblings captured a group of travellers on the road and ate all but one before falling asleep. The man was able to escape, though he had no memory of anything before the incident. Josef met this man, who gave him the details on Thaegan's children for his book.[1]
The Lake of Tears
Lun was mentioned in the golden-eyed giant's riddle to Lief.[2]
City of the Rats
Lun, Lod, and their nine surviving siblings —Hot, Tot, Fie, Fly, Zan, Zod, Pik, Snik, and Ichabod — all join forces to seek vengeance on Lief, Barda, and Jasmine, for the deaths of their mother and siblings. They pursue the companions, disguised as wolves, and force them into a net trap. However, the siblings begin fighting over how the food should be divided. Through Lief's encouragement the fighting became lethal, and Lun and all its siblings died, except for Ichabod.[3]
Physical appearance
Lun is pale and bald, like its twin Lod.[1]
Abilities
Like the rest of Thaegan's children, Lun could shapeshift into a wolf.[3]
Relatives
Anime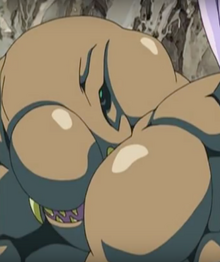 Trivia
Lun's gender is not given. However, it could be the horned sister mentioned when the siblings begin to brawl.
References
↑ 1.0 1.1 1.2 1.3 Rodda, Emily. The Deltora Book of Monsters. Scholastic Australia. 2001.
↑ Rodda, Emily. The Lake of Tears. Scholastic Australia. 2001.
↑ 3.0 3.1 Rodda, Emily. City of the Rats. Scholastic Australia. 2001.
See also
Community content is available under
CC-BY-SA
unless otherwise noted.