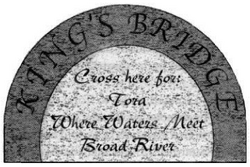 King's Bridge sign
King's Bridge
Physical information
Chronological information
Location on map
King's Bridge
is a
Ralad
-built bridge that crosses the
River Tor
in
Amethyst territory
. Built by order of
King Brandon
, the bridge is located just downstream of
Tora
. The bridge is strong and sturdy, due to the craftsmanship of the Ralads, and is extremely durable.
[1]
History
Construction
King's Bridge was built during the reign of King Brandon by the Ralads. The bridge enables travellers to reach Tora, Where Waters Meet, and the River Broad.[1]
Secrets of Deltora
Doran mentioned the King's Bridge as a way of crossing the River Tor in his traveller's guide Secrets of Deltora.[1]
The Valley of the Lost
Lief, Jasmine and Barda tried to cross the bridge to get to Tora, but a group of Ols disguised as a herd of goats barred their way.[2]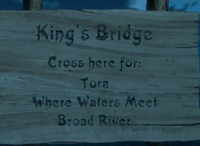 References
See also
Community content is available under
CC-BY-SA
unless otherwise noted.