Adin knew that he was the one who must fill the medallions in the belt.

Guardian's palace is in need of more information! Guardian's palace is lacking a History, with events from The Deltora Book of Mosters, when Ranesh came to the palace, from the palace's early history where Jarred/Doom came there, and from The Valley of the Lost, the location's first and last actual appearance.
| | |
| --- | --- |
| | There is no denying that Deltora can be dangerous for the unwary or ill-informed! |
That's not the Archer of Azzure!

The term "Guardian's palace" has not been confirmed by official sources and is merely conjecture.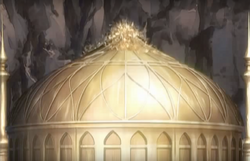 The Guardian's palace
General information
| | |
| --- | --- |
| Position | Hiding place of the Diamond |
Physical information
Government
| | |
| --- | --- |
| Form of government | Dictatorship |
Chronological information
The Guardian's palace also known as the glass palace was a grand residence made of glass located in the Valley of the Lost in Diamond territory, which was given by the Shadow Lord to Fardeep in exchange for his service and protection of the Diamond. The only ones who lived in the palace were Fardeep as the Guardian, and his monstrous pets. Once Lief, Barda and Jasmine defeated the Guardian and returned him to his normal human self, the palace vanished and in its place stood a simple wooden hut, with flowers and grasses growing around it.
History
The Deltora Book of Monsters
The Valley of the Lost
Layout
Trivia
References
See also
Community content is available under
CC-BY-SA
unless otherwise noted.