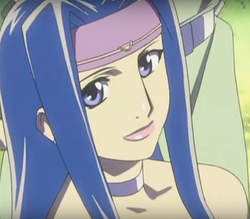 Ethena
Biographical information
| | |
| --- | --- |
| Age | Over 100 as a result of Thaegan's curse. |
Physical description
Personal information
Chronological and political information
| | |
| --- | --- |
| Position | Chieftess of D'Or |
Ethena
is the wife of
Nanion
and the chieftess of
D'Or
.
[1]
History
One hundred years ago, the sorceress Thaegan laid a curse upon the city of D'Or and its people, transforming it into a desolate marsh known as the Lake of Tears and turning the people into the various monsters that inhabited it. Ethena was transformed into a statue in the centre of the lake, known as the Weeping Rock, while her husband Nanion became the monster Soldeen.[1]
The Lake of Tears
With the arrival of Lief, Barda and Jasmine Thaegan was killed and the area and the people were released from her curse. She gave Lief the Ruby because it had fallen into a crack of the Weeping Rock when Thaegan appeared.[1]
The Sister of the South
Ethena and her husband Nanion were present at the wedding of Lief and Jasmine.[2]
Physical appearance
Ethena is described as a beautiful woman. Her skin is golden and she has hair that is black as the night.[1]
Personality
Ethena is kind and warm-hearted. After the companions killed Thaegan and saved the People of D'Or, Ethena offered them a place in D'Or to stay for a while.[1]
Abillities
Ethena has leadership abilities to some degree because she rules D'Or together with Nanion.[1]
Relationships
Nanion
Ethena shares a deep relationship with Nanion for they are wife and husband. They love each other very much and rule D'Or together.[1]
Relatives
Appearances
Deltora Quest
Deltora Quest 1
Deltora Quest 3
Trivia
Ethena has black hair in the books but in the anime her hair has been changed to purple.
References
↑ 1.0 1.1 1.2 1.3 1.4 1.5 1.6 Rodda, Emily. The Lake of Tears. Scholastic Australia. 2001.
↑ Rodda, Emily. The Sister of the South. Scholastic Australia. 2004.
See also
Community content is available under
CC-BY-SA
unless otherwise noted.