We're Getting Mutants in the MCU - The Loop
Play Sound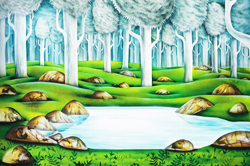 Emerald territory
General information
Physical information
Government
Chronological information
Location on map
Emerald territory is a territory in the northwest of Deltora. It is the territory of Emerald dragons and the Dread Gnomes. Emerald territory is bordered by Amethyst territory to the southwest and Lapis Lazuli territory to the southeast. Bordered in the north by the Barrier Mountains, Emerald territory is the harshest of the seven Deltoran territories.[1]
Tribe
Main article: Dread Gnomes
Dread Gnomes are small, stocky, hardy people. They are intelligent, known for using traps and riddles to defend their stronghold. Dread Gnomes are excellent archers and are suspicious of outsiders.[1]
Capital
Main article: Dread Mountain
Dread Mountain, the capital of Emerald territory, is the largest mountain in the Barrier Mountains. Dread Gnomes dwell on and inside the mountain, and Kin inhabit its thick Boolong forests.[1]
Gem
Main article: Emerald
The Emerald is the symbol of honour. It grows dull when evil is present or when a vow is broken. An antidote to poison, the Emerald also heals sores and ulcers.[2]
Landmarks
Cities
Terrain
Fauna
Flora
Trivia
References