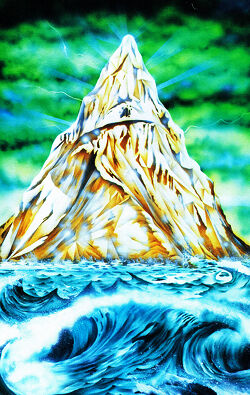 Diamond territory
General information
Physical information
Government
| | |
| --- | --- |
| Form of government | Chiefdom |
| | |
| --- | --- |
| Head of state | Tribal chief |
Chronological information
Location on map
Diamond territory is a territory in the southwest of Deltora. It is the territory of Diamond dragons and the Jalis tribe. Diamond territory is bordered by Amethyst territory to the northwest, Lapis Lazuli territory to the north, Opal territory to the northeast, and Topaz territory to the east.
Tribe
Main article: Jalis tribe
The Jalis people are a militant people, known for being Deltora's strongest fighters. Jalis knights are common in and near Jaliad, but the bulk of the Jalis tribe consists of fisherfolk, farmers, shop owners, and tradespeople. Jalis are superstitious, quick to take offence, and quick to fight.[1]
Capital
Main article: Jaliad
As the main centre of Diamond territory, Jaliad is a noisy, rough city. It contains a busy marketplace, an arena where knights train and stage mock battles, and a great hall where citizens eat and listen to their storyteller recite the Tenna Birdsong Tales.[1]
Gem
Main article: Diamond
The Diamond is the symbol of purity and strength. It lends strength to its bearer, protects from sickness, and helps the cause of true love. If gained through violence or trickery, the Diamond will place a curse on the one who acquired it dishonourably.[2]
Landmarks
Cities
Terrain
Fauna
Flora
Trivia
References