Deltora Quest: The Seven Gems (デルトラクエスト 7つの宝石)
General information
| | |
| --- | --- |
| Developers | Namco Bandai Games, Inc. |
| | |
| --- | --- |
| Publishers | Namco Bandai Games, Inc. |
| | |
| --- | --- |
| Release date(s) | October 20th, 2007 |
| | |
| --- | --- |
| Genre(s) | Fantasy action RPG |
Production information
| | |
| --- | --- |
| Rating(s) | CERO: - All ages |
| | |
| --- | --- |
| Media | NTSC-J Cartridge (Nintendo DS) |
| | |
| --- | --- |
| Input methods | Control pad (Nintendo DS) |
This article is about the video game. For the card game, see Deltora Quest Card Game.
Deltora Quest: The Seven Gems, alternatively translated as Deltora Quest: The Seven Jewels, (デルトラクエスト 7つの宝石 Derutora Kuesuto Nanatsu no Houseki) is a Japanese exclusive Nintendo DS game which was released in 2007. For the most part the game follows the storyline in the first series of Deltora Quest and it is very faithful to the source material, more so than the anime and manga.
The game features nine main levels (one level is equivalent to one novel in the book series). Apart from the main quest, the game also has five extra zones. They include Tom's Shop (where items can be purchased), Phantom Tower (in which players must fight through hoards of enemies in order to find stairs which lead higher into the tower. As the player progresses in height, the enemies become harder to kill. Every ten levels, a boss is presented to the player), Mokito's House (where players must chase Makito down by answering quiz questions about the video game and facing obstacles), Mix Mix Room (where, by adding ingredients, potions can be crafted) and Grand Farm (in which players meet a farmer called Jack. He gives you the mission of eliminating monsters that are destroying his farm).
Combat system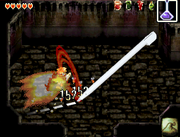 The game features a stylus-based combat system. Tapping enemies with the stylus will make your character attack an enemy in the game. There are also a few special moves. For example, if you swipe the stylus in a diagonal direction, the character on screen will perform a diagonal move which moves your character vertically, allowing more damage to more enemies.
Soundtrack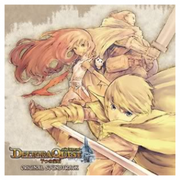 A collection of three Japanese exclusive CDs were released in 2007. In its entirety, the bundle of CDs contain ninety tracks composed by various artists. They include Hitoshi Sakimoto, Kimihiro Abe, Mitsuhiro Kaneda, Noriyuki Kamikura and a piece performed by the Eminence Symphony Orchestra.
Trivia
Community content is available under
CC-BY-SA
unless otherwise noted.