Adin knew that he was the one who must fill the medallions in the belt.

Dead Man's Rock is in need of more information! Dead Man's Rock is lacking General information. Look at the Manual of Style for a proper guideline to editing on this Wiki.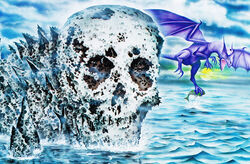 Dead Man's Rock
Physical information
Chronological information
Location on map
Dead Man's Rock
is a rock shaped as a skull found on the
Amethyst Coast
.
[1]
History
Secrets of Deltora
Doran the Dragonlover mentioned Dead Man's Rock in his book Secrets of Deltora. After drinking water from the Dreaming Spring, he saw Veritas fishing near the rock.[1]
Apperance
The rock is jagged and has been eroded over time by the ocean water into the shape of a skull.[1]
References
↑ 1.0 1.1 1.2 Rodda, Emily. Secrets of Deltora. Scholastic Australia. 2008.
See also
Community content is available under
CC-BY-SA
unless otherwise noted.