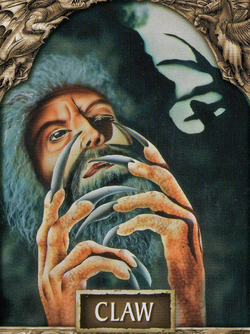 Mikal
Biographical information
Physical description
Personal information
Chronological and political information
| | |
| --- | --- |
| Profession | Potter (formerly) |
Position

Owner of Del's largest pottery (formerly)
Leader of Shadowlands Resistance (formerly)
Mikal
of Del, later known as
Claw
, is a Deltoran man of the
Del
tribe who was the leader of the 
Resistance
within the
Shadowlands
after being taken there by
Grey Guards
. While in the city, Mikal worked in the
Del Pottery
, which had housed a Shadow Lord resistance, and so he and everyone else, except
Josef
and
Ranesh
, were taken from the Pottery and marched to the Shadowlands in the north. In the factory, the Shadow Lord experimented on Mikal, causing him to gain claws, but before he was able to mutate him any further, Mikal, now nicknamed Claw, escaped. Within the Shadowlands he managed to form a new resistance movement. About 17 years later, King Lief of Deltora came to the Shadowlands with his trusted companions, Barda and Jasmine, and with the help of the magic of the Pirrans, they managed to transport the Deltoran slaves back to Deltora. Mikal Would always retain his monstrous claws, but at least he was in safety.
[1]
History
Early life
Mikal owned the largest pottery in Del. He sheltered and fed Josef and Ranesh in his cellar when they came to the city. Soon after the invasion of the Shadow Lord, Mikal and his family were captured and his pottery was raided, and they were taken to the Shadowlands.
While the rest of his family's whereabouts are unknown, Mikal was sent to the Factory to be experimented on. Before the experiment was completed, he escaped inside a cave through a hallow under a rock. The experiments gave him talon-like claws, and he changed his name to Claw to match it.
He formed a new Resistance group by saving people wandering the Shadowlands, including Gers and Brianne of Lees.[1]
The Shadowlands
Claw and his men captured Lief, Barda, and Jasmine shortly after they entered the Shadowlands. After hearing their story, Claw agreed to join forces with them to free the captured Deltorans. He and Gers snuck into the Shadow Arena and freed the slaves from their shackles. This allowed Lief and Emlis to play the Pirran Pipe long enough for the Pirrans to rescue everyone.[1]
The Sister of the South
Claw attended the wedding of Lief and Jasmine, alongside his fellow resistance members.[2]
Physical appearance
Claw has long grey hair and a shaggy grey beard. Due to being experimented on by the Shadow Lord, he has talons at the end of his fingers.[1] His skin is white and his eyes are dark.[nb 1]
Personality
Claw is a calm individual who does not get overwhelmed by intense situations. When Barda threatened to kill him, he calmly talked to the companions as if nothing was at stake. He also went to pass on the word in the Shadow Arena when Lief demanded this, despite the risks.
Abilities
After the experiments, Claw obtained enlarged nails. Those nails serve him as claws. He can inflict deep wounds with his claws.
Relatives
Appearances
Deltora Quest
Deltora Quest 2
Deltora Quest 3
Trivia
References
Notes
↑

Marc McBride's art of Mikal/Claw on the Deltora Quest Scholastic US Book Club card depicts Mikal/Claw with white skin and dark eyes.
See also
Community content is available under
CC-BY-SA
unless otherwise noted.