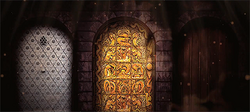 Chamber of the Doors
Physical information
Chronological information
"Three magic Doors you here behold.
Time to choose: Wood? Silver? Gold?
Listen to your inner voice
And you will make the wisest choice.''"
— The engraving upon the stone above the three Doors
The Chamber of the Doors is a circular room located underneath the Keep of Weld, containing three Doors, two of which are magical gateways that lead to the past and future.
History
The Golden Door
The Silver Door
The Third Door
The three Doors
Originally, a wooden door was put in place to seal the hollow mountaintop that Weld was built on, but as Eldannen's longing for the outside world grew, he created the golden and silver Doors, as portals to different times.[1]
The golden Door
The golden Door was made when Eldannen longed to see his Fellan friends in the Fell Zone. The golden Door leads to the past. The symbols on the door represented the beasts in the Fell Zone and beyond that.
The silver Door
The silver Door was made when Eldannen wished to see the future results of something e.g. Annoltis being left in authority. The silver Door leads to the future. The future experienced through the silver Door was dependent on actions that had/were occurring in the past/present.
The wooden Door
The wooden Door was an ordinary door made of wood and brass.[1] It was made of broad wooden planks and bore no decoration except brass studs and bands.[2]
Trivia
References
Community content is available under
CC-BY-SA
unless otherwise noted.